Ayrshire & Arran tourism businesses to embrace change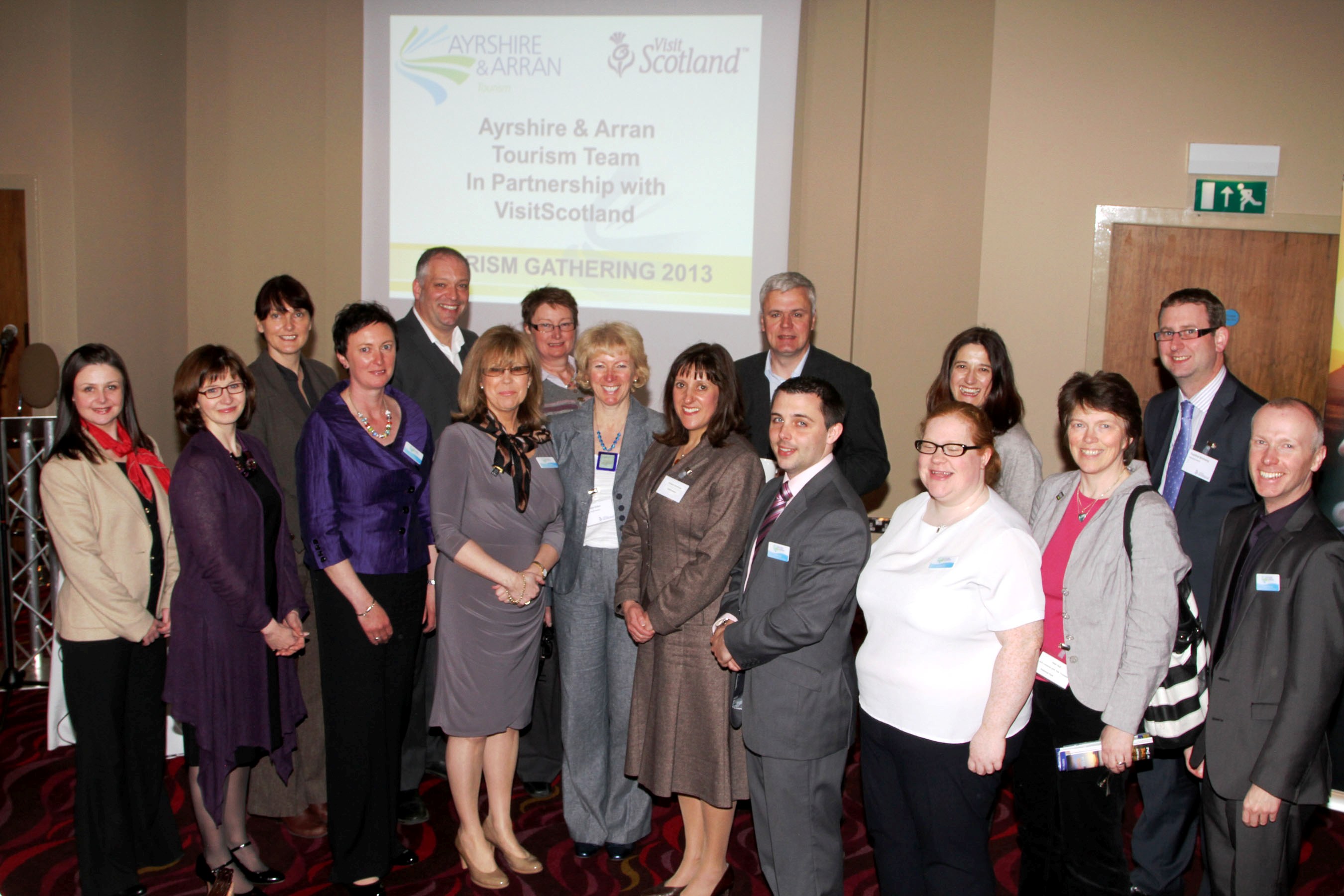 The local tourism industry must embrace different ways of working to achieve more visitors to Ayrshire & Arran was the message heard by around a hundred tourism businesses who attended a tourism event held on Tuesday 30 April 2013. 
Ayrshire & Arran Tourism Team, in partnership with VisitScotland, hosted the Tourism Gathering at the Menzies Hotel to explore how local tourism businesses can best work together to drive tourism growth in Ayrshire & Arran. 
Businesses from across Ayrshire & Arran had the chance to boost their credentials through improved networking, collaboration and making the most of existing marketing opportunities available for the tourism sector. They heard how the key to a successful tourism industry is the ability to be flexible, knowledgeable and how networking plays an important role. Businesses were also encouraged to move on from dwelling on past activities and to learn to work more proactively to achieve greater success for Ayrshire & Arran, which already boasts a wealth of cultural, sporting and environmental assets as well as enjoying close proximity to large centres of population. The event also saw the launch of a dedicated website for tourism businesses to network and share information. www.ayrshire-arran.org/register/ 
The free event took place between 10am and 4.30pm and included presentations on the Ayrshire & Arran Tourism Strategy and insights into the Ayrshire & Arran visitor. 
The keynote speaker was Mairi Bell from Loch Lomond and the Trossachs National Park. She spoke about the strategy for the National Park and how they are working with businesses to enhance the product offering and to capitalise on the opportunities provided by their natural assets. 
Delegates also had the opportunity to participate in two out of four workshops which ran on the day that focused on using themed itineraries, watersports, the Ayrshire & Arran tourism industry online portal and working with the media.
Moira Birtwistle, Chair of Tourism Leadership Group stated: "Collaboration and networking are paramount to success in today's tourism economy. The energy and positivity displayed at the Ayrshire & Arran Tourism Gathering by local tourism delegates was tangible. 

"Time has moved on in Ayrshire & Arran. The future of tourism as directed by the Ayrshire & Arran Tourism Strategy 2012-17, in collaboration with an industry that recognises the value of business connectivity, will ensure that Ayrshire & Arran is well placed to develop a destination where visitors will receive outstanding experiences." 
Annique Armstrong, Regional Director of VisitScotland, said: "The tourism industry conference held in partnership with Ayrshire & Arran's Tourism Team was a valuable event in that it brought many of the key players from the local tourism industry together to hear about opportunities and how they might best work together for the benefit of both themselves and the destination as a whole. Next year Scotland welcomes the world with our second year of Homecoming and we have once in a lifetime opportunities such as The Ryder Cup and Commonwealth Games so it's imperative that businesses invest and progress before and whilst Scotland is in the international spotlight."